Outdoor Units
10×20
Provided with convenient entry locations near the main gate. Smaller units available.
15×40 RV
Provided with lighting and electricity.  Entry door height is 14 ft. tall.
12×30
Provided with lighting and electricity. Entry door heights vary.
10×15
Provided with level access and a spacious room available for backing or turning around.
Indoor Units
4×5, 5×10, 10×20, and 15×20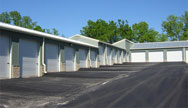 All indoor units are climate controlled with individually alarmed doors, video surveillance, and easy access to your level entry. Some units also available with loading dock access.
Unit sizes vary depending on your needs, from 4×5 and 5×10 to as large as 10×20 and 15×20, individually lit with electricity available.